The Silicone Ball Gag by Sinvention is the perfect toy for those looking to add more excitement to the bedroom and their role-playing games. The product's high quality and make ensures that it will last a long time and will provide countless hours of enjoyment to both the person wearing the gag and their partner(s).

Right from the get-go I knew the purchase of this ball gag would go one of two ways for my partner and I; either we would love it and make it a steady part of our love making or it would quickly turn into one of those ideas which seem exciting on paper but turn to duds when applied in real life.

Nevertheless, with some trepidation I decided to give this one a shot and surprise her with it. After some research on the EdenFantasys I decided that the Silicone ball gag by Sinvention was the best choice.

When the package arrived I could not wait to try it out and see what accessories it came with. However, I was left a little underwhelmed as the packaging was not as exciting as it was for something like Elise from Lelo, but I guess that makes sense considering the nature of the products. Still considering the steep price for this Ball gag I was anticipating packaging of a higher quality.

Whatever disappointments I had with the product were quickly dissipated as soon as I had a chance to handle the ball gag itself. One of my biggest concerns after doing some research on ball gags was about the smell and taste many people have complained about in other products. I am glad to say that this product does not suffer from the same failings. The ball gag itself is made from high quality food grade silicone material, which is non-toxic, hypoallergenic and is non-porous so it can be shared after some quick cleaning. The circumference of the ball is 5 1/2", which in my opinion is the perfect size, as it its not so large as to put too much pressure on the wearer's jaw and not so small that it fails in doing its job as a gag. While it does not hurt to bite into it hard, it does some cause excessive saliva buildup. Some drooling does occur but I'm not complaining because I love a little sloppy lovemaking!

This gag is perfect for while I was able to stop my partner from talking, but she was still able to make some noise, letting me gauge her pleasure as I teased her with our various other toys!

The straps are made from high quality leather and utilize two distinctive varieties of leather for the different pieces. The piece that goes around your head and contains the buckle is made from stiff durable leather. While the piece that holds the actual mouthpiece and covers the front part of the face is made from soft flexible leather that makes sure that the wearer does not suffer any discomfort.

The buckle is made from solid steel and has a lockable feature to ensure that your slave is not able to get out of it that easily! Nonetheless, the front straps holding the mouthpiece do contain brass snaps for quick easy release.

The Ball Gag is also relatively easy to clean. All you have to do it to take the pieces apart by snapping the brass snaps on the front and removing the mouthpiece. The leather straps can be cleaned by any decent leather-conditioning product. Whereas the silicone ball mouthpiece can be cleaned in a variety of manners from boiling it in water for 3-5 minutes to washing it soap/detergent and then cleaning with water.

This gag is perfect for those who are willing to invest in a high quality albeit slightly expensive ball gag which will last them a very long time. I can't tell you how exciting it was the first time I put this on my partner and then tied her down using the under-the-bed restraint system. Watching her squirm as I slowly played with her body and teased her was something everyone should experience with their partner. Preventing them from being able to talk opens up a whole new frontier of kinky and bondage sex play that has to be enjoyed if you have someone who is willing to go for the ride with you.

I must add that I am not suggesting that this product is only for those into serious BDSM or anything. My fiancée and I are basically into restraints and some domination/submission and we had incredible fun with these. One of the most exciting moments I had was when she had me restrained in a chair and then made me wear this gag. After which she proceeded to do a little tease and denial play with my cock and made me squirm. Ordinarily in a similar situation I would be begging her to let me cum, but in this case not being able too only made the session more intense. Also we both enjoyed that the person in control was able to more dominant with the other person gagged!


My fiancée wanted me to add that you have to be careful if you enjoy some hair pulling and the person has this on. She complained a few times that her hair was caught in the buckle (probably my fault...excitement makes me a little careless :D) She recommends tying the hair up before buckling the strap.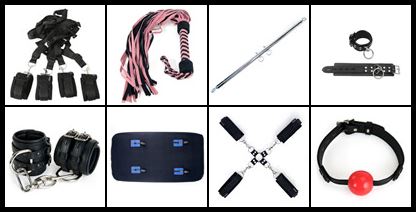 clone it